5 deciliters milk
50 grams of fresh yeast or dry yeast
1 1/2 teaspoons salt
2 deciliters sugar
1 tablespoon ground cardamom
1 egg
900 grams of wheat flour
100 grams soft butter or margarine
Filling:
100 grams soft butter or margarine
1 deciliter sugar
2 tablespoons cinnamon
On top:
1 egg
5 tablespoons pearl sugar
---
Instructions
You can prepare these by hand or with a stand mixer.
Heat the milk to 37 degrees Celsius if using fresh yeast or 42 degrees if using dry yeast. Dissolve the yeast in the milk.
Whisk in the salt, sugar, cardamom, and egg into the milk.
Gradually whisk in about 6 deciliters of flour. Add the soft butter and knead the dough until the butter is fully incorporated. Add the remaining flour and mix until the dough comes away from the sides of the bowl and doesn't stick to your hands.
Cover the dough with a towel and let it rise until it doubles in size in a warm place, approximately 30-45 minutes.
Divide the dough into two equally sized portions. While you can make one large square with the entire dough, it's easier to split it into two. Lightly flour a clean work surface. Roll out the first portion of dough into a 30×50 centimeter rectangle.
Spread half of the soft butter over the dough (use all the butter if baking everything at once). Sprinkle half of the sugar and cinnamon over the butter.
Roll the dough tightly into a roll.
Cut the roll diagonally into triangle pieces.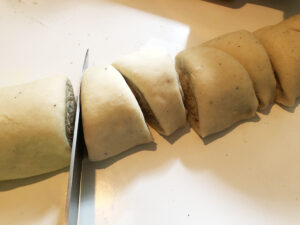 Turn the narrow side up and press the center with your finger or a knife.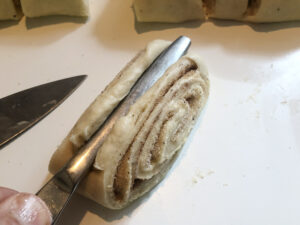 Place the buns on a baking sheet and let them rise under a towel for about 30 minutes.
Preheat the oven to 225 degrees Celsius.
Brush each roll with the egg wash and sprinkle with pearl sugar.
Bake the buns for about 12-15 minutes.