When I last visited England for the first time, I had the opportunity to taste crumpets. I had heard of them before but never actually tried them. You heat them in the toaster and enjoy them with butter. They also pair very well with jams or Nutella.
The exact origin of crumpets is not entirely clear, but they are said to have originated in Wales.
I attempted to make them myself, and the result was successful. Traditionally, they should be cooked in special molds, but since I didn't have those, I used a can with the bottom removed, and it worked just as effectively. A large round cookie mold can also be used.
Print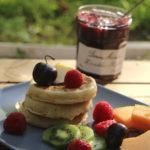 Crumpets
---
225 g wheat flour
1.5 dl milk
1.5 dl water
1 teaspoon dry yeast
½ tsp fine sugar
1 tsp salt
50 g butter
---
Instructions
Mix the flour, salt, sugar, and yeast in a bowl.
Heat the milk and water to 42 degrees in a saucepan. Pour the warmed milk into the flour mixture and stir until you have a smooth and thick batter. Let the batter rise under a towel for approximately an hour in a warm place.
Stir the dough when it's ready to rise.
Heat a frying pan over medium heat and add a little oil. Place a crumpet ring in the middle of the pan (you can also use a slightly larger round gingerbread mold or a bottomless can grease with a little butter) and pour in approximately 1 cm of batter. Bake for about 6 minutes until the top is firm and has small holes. Remove the ring and bake the other side for a few minutes. Repeat until you have baked them all.
Allow the crumpets to cool on a wire rack.
When it's time to eat, heat them in the toaster for 2-3 minutes. Serve with butter or jam.