Karelian pies or Karjalanpiirakka as we call it here is probably the most traditional and typical Finnish food you can find. They are eaten in some parts of Russia and Estonia also, but they originate from Finland.
They are very easy to make. If you have some leftover rice porridge you can use that here. The crust is usually made with rye flour and wheat flour. Some recipes only use rye flour, but with a little wheat flour in them, they become softer.
You can also use mashed potatoes as a filling instead of rice.
Traditionally they are eaten with egg-butter. Boiled eggs that you mix wit butter. I am not a big fan of egg so I usually only put butter on them.
The pies are best when eaten a bit warm.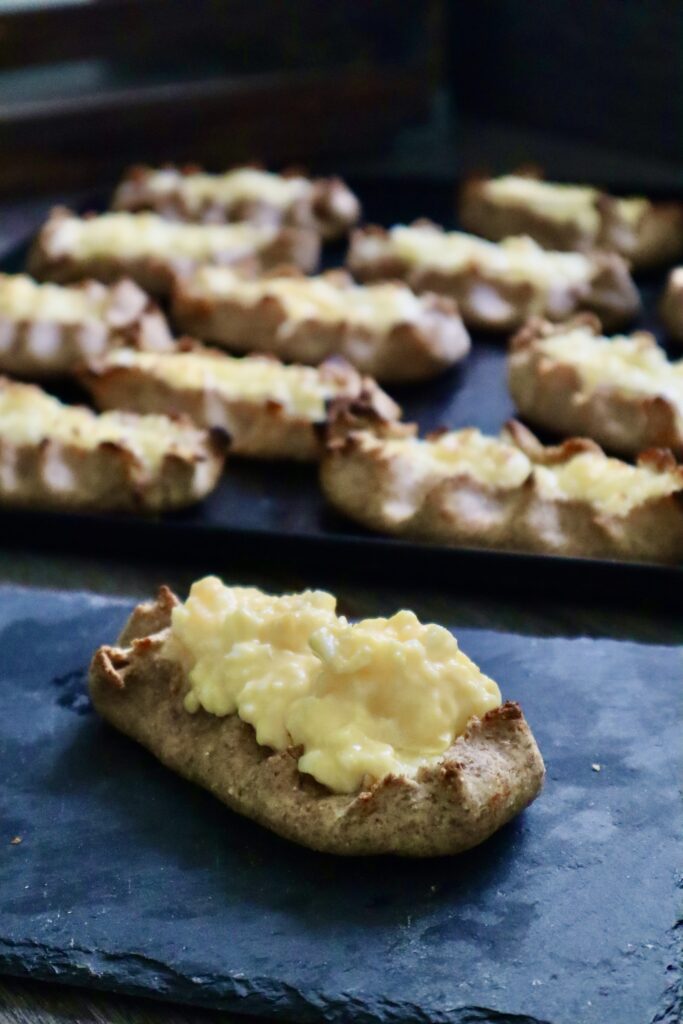 Print
Karelian pie (Karjalanpiirakka)
---
Rice porridge
2

deciliter

water

2

deciliter

porridge rice

1

liter

milk (full fat)

1 teaspoon

salt
Dough
3

deciliter

rye flour

2

deciliter

wheat flour

2

deciliter

cold water

1/2 teaspoon

salt

2 tablespoon

oil or melted butter
Brushing
50

gram

butter

3

tablespon water
Egg butter
100

gram

butter

3

boiled eggs
salt
---
Instructions
Rice porridge
Boil 2 deciliers of water with 2 eciliter of rice until the water has evaporated.

Add the milk and boil until the porrdige is thick.

Add the salt and let the porridge rest while you make the dough.

Prepare the dough
Heat the oven to 260 degrees celcius. Mix all the ingredients togheter.

Kneed the dough and shape it to a 5 cm in diameter roll.

Cut the roll into 15 pieces and with a rolling pin, roll out each piece to a oval thin pie crust.

Sppon out a layer of porridge on the pie crust. If you want you can brush a little egg on top of the rice, that will give the rice more color, but it is optional.

Fold the sides up and pinch with your fingers around the edges.

Place the pies on a baking pan and bake them for about 8 minutes in a 260 degree hot oven until golden brown.

While the pies are in the oven, prepare the butter and water mixture. Melt the butter and mix it with water.

When the pies are done, brush the butter and water mixture on them right away when you take them out of the oven. You can also dip them in the butter mixutre, just be carefull when they are hot and the butter is warm.

Egg butter
Prepare the egg butter by mixing boiled eggs, roomtemperatured butter and salt.

Enjoy the pies with the egg butter. Or with just butter.

Category:

Tilltugg

Cuisine:

Finnish
Keywords: Finnish, karelian pie, Karjalan piirakka