So, a girl messaged me on Instagram, asking if we could exchange recipes. Of course, I was excited to participate. She's from India, so she shared an Indian recipe, and I shared a Finnish recipe with her. You can check out what she prepared on her Instagram @healthiefoodiesiaters. We even filmed a video while making the recipes.
The dish she shared with me was fried potatoes and roti. It turned out to be incredibly delicious – easy to prepare and bursting with flavors. Additionally, the dish is vegan, which showcases the array of fantastic vegan recipes from India. I also tried making roti, a thin bread that's commonly enjoyed with most Indian meals.
Print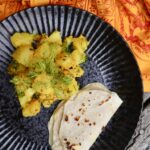 Indian fried potatoes
---
3 medium potatoes (600g)
2 Tablespoon oil
2 Teaspoon Cumin seeds
1,5 Teaspoon coriander seeds
1 Pinch hing
1/4 Green chilli
1 Inch Ginger
1/2 Teaspoon turmeric powder
1/4 Teaspoon Red chilli powder
salt to taste
lemon juice
fresh coriander
---
Instructions
Once you have boiled the potatoes, peel them and chop them into cubes. Set it aside.
Heat oil in a pan on medium heat. Once the oil is hot add the cumin seeds, and let them sizzle. Immediately lower the heat so that cumin seeds don't burn.
Then add the crushed coriander seeds and hing (if using) and saute for a few seconds. 
Add the green chili and ginger and saute for a minute until the ginger starts changing color.
Add in the boiled and cubed potatoes to the pan and toss with the spices.
Add turmeric, red chili powder and salt. Toss to combine potatoes with all the spices.
Let the potatoes cook for 2 to 3 minutes on medium heat, then add the chopped cilantro.
Squeeze in fresh lemon juice to finish it off.
Serve it with roti. I will send you a short video of how we make roti tomorrow.