The Dream Cake from the "Mennonite Community Cookbook" is a slice of tradition. From the tender bottom layer to the heavenly top, every element plays a role in creating a confection that's worthy of its name.
These delicious bites are chewy and sweet. If you overbake them they become hard, but for some reason that didn't bother me. They taste very good with a cup of coffee or a cold glass of milk.
The recipe is written by Mary Kefferm Waterloo, Ontario, Canada.
Print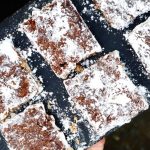 Dream Cake
---
Bottom part:
1 1/2 cup butter
2 tablespoons sugar
1cup flour
Top part:
1 1/2 cups brown sugar
2 eggs, well beaten
1 cup walnuts
1/2 cup shredded coconut
2 tablespoons flour
1 teaspoon baking powder
1 teaspoon salt
1 teaspoon vanilla
---
Instructions
Bottom part:
Rub together like pastry and pat into a pan 8 × 12 inches.
Bake at 375° until light brown.
Top part:
Mix together as listed and pour the mixture over the bottom part.
Return to oven and bake at 350° f for 35 minutes.
When slightly warm, cut into squares and roll in powdered sugar.