Delicious Hyderabad Biryani
If you're a fan of aromatic spices and exquisite flavors, then Hyderabad Biryani is a dish that deserves a special place in your culinary repertoire. This iconic Indian dish is renowned for its rich blend of spices, tender chicken, and fragrant basmati rice. Today, we're excited to share the authentic recipe for crafting this culinary masterpiece in your own kitchen!
About biryani
Biryani, the timeless culinary gem, needs no introduction. Its roots, however, stretch beyond India. Derived from the Persian words "Birian" (fried before cooking) and "Birinj" (rice), biryani's origins trace back to West Asia.
Legends narrate diverse routes to India. Timur, the conqueror, brought an early form of biryani in 1398, a pit-cooked mix of rice and meats for his warriors. Arab traders possibly introduced it to India's Malabar coast as "Oon Soru," a hearty rice dish for soldiers.
Mumtaz's inspiration led to biryani's Mughal inception. Perfected by Hyderabad's Nizams and Lucknow's Nawabs, the biryani spread, is accompanied by delectable sidekicks like mirchi ka salan.
Creating the ultimate biryani demands precision and technique. The traditional "dum pukht" slow-cooks the ensemble, letting flavors meld. Spices—ranging from modest to lavish—add the signature punch, and meats, rice, and fragrant agents weave a symphony on the plate.
Every bite of biryani encapsulates history, culture, and taste—a dish that transcends time, continents, and palates.
Source: indiantimes.com
Print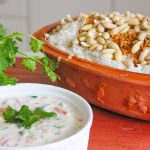 ---
3 dl Basmati rice
500 g Chicken, bone-in and diced
1/2 tsp Garam masala
1 cup Fried onions, finely chopped
A handful of fresh chopped cilantro leaves
Half a handful of fresh chopped mint leaves
2–3 tbsp Cooking oil or ghee
1/4 tsp Saffron mixed with 3 tbsp hot milk
Marinade:
1 tbsp Ginger and garlic paste
1/4 tsp Turmeric
Green chili, finely chopped (to taste)
1 cup + 1 tbsp Plain yogurt (e.g., Greek)
2 tbsp Lemon juice
1 1/2 tsp Red chili powder
1 1/2 tsp Garam masala
1/4 tsp Ground green cardamom
Salt to taste
Spices for Rice:
6 cups Water
1 tsp Cooking oil
2 strands of Nutmeg flower (Mace)
1/2 tsp Black cardamom
3 Cinnamon sticks
6 Cloves
2 Bay leaves
1/2 tsp Peppercorns
2 tsp Salt
---
Instructions
Mix all the marinade ingredients and marinate the chicken pieces for at least 2 hours, preferably overnight. You can use bone-in chicken for better flavor, but boneless chicken can also be used, cut into smaller pieces.
Wash the rice until the water runs clear, then soak the rice for about 20 minutes. Heat 6 cups of water, add 1 tsp oil, spices, and salt. Boil the water for 5 minutes. Add the soaked rice and cook until it's ¾ cooked. Do not overcook the rice. Strain any remaining water.
In a large, thick-bottomed pot, place the marinated chicken. Add one-third of the fried onions, mint leaves, cilantro leaves, and the oil or ghee. Mix well.
Layer the chicken with an even layer of rice. Add another layer of fried onions, mint, and cilantro. Repeat this process 3 times, finishing with a layer of rice. Pour the saffron-milk mixture over the top.
Cover the pot with a lid and seal the edges with aluminum foil to trap the steam.
Place the pot on the stove over medium heat (about 3-4) for approximately 20 minutes.
Reduce the heat to low (about 1-2) and let it simmer for 10-15 minutes.
After removing the pot from the heat, let it rest and steam for an additional 20-30 minutes before serving.