Lamb Curry with Spinach
Packed with aromatic spices and tender lamb pieces, this dish is a culinary adventure you won't want to miss.
Experience the rich flavors of our Lamb Curry with Spinach – a blend of tender lamb, spices, and vibrant greens that'll transport your taste buds to the heart of India.
Print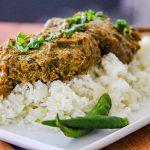 Lamb Curry with Spinach
---
500 grams of lamb pieces
1/2 teaspoon turmeric
Salt to taste
10 cloves of garlic
1 cm ginger, cut into small pieces
For the curry
4 tablespoons vegetable oil
4 cloves
4 cardamom pods
2 bay leaves
1 cinnamon stick
1 teaspoon ginger and garlic paste
1 green chili, finely chopped
1 large onion, finely chopped
200 grams of fresh spinach
2–3 chopped tomatoes
5 curry leaves
---
Instructions
Place the meat, ginger, garlic, and salt in a pressure cooker and cook the meat for 4-5 whistles.
Heat oil in a pot or frying pan and add all the spices, frying them for a few seconds. Add ginger and garlic paste, green chili, and finally, the chopped onion, and sauté until it turns brown.
Add tomatoes, spinach, curry leaves, and salt. Let it cook for 10-12 minutes.
Add the meat pieces and sauté for an additional 5 minutes to ensure the meat mixes well with the spices.
Add water and cook until the curry thickens. Garnish with fresh cilantro and serve with rice.