Who doesn't like mango?
If you're on the hunt for a treat that's as easy to make as it is delicious, say hello to Mango Mousse! This recipe is your ticket to a paradise of fruity goodness and creamy vibes.
There's just something irresistibly magical about sinking your teeth into that juicy, golden goodness. Whether it's sliced, diced, blended into a smoothie, or the star of a dessert like Mango Mousse, this tropical delight never fails to bring a burst of sunshine to your taste buds.
The best mangoes I ever had were in India. They were so juicy and sweet. Nothing compared to the ones I can find here in the stores.
Facts about mango
Fruity Category: Mangoes belong to the drupe family, which means they have a tasty outer layer, a yummy edible part, and a big stone in the middle – just like peaches, plums, and cherries.
Ancient Origin: The mango's story began in India over 5,000 years ago. It's been a fruit favorite for a long time.
Travel Buddies: Mango seeds went on a journey with humans, traveling from Asia to the Middle East, East Africa, and South America about 300-400 A.D. They were like little seed explorers.
Fashion Connection: The famous paisley pattern? It was inspired by the shape of a mango. Talk about trendy fruit vibes!
Friendship Gesture: In India, giving someone a basket of mangoes is a friendly hello. And guess what? Mangos are also a symbol of love there. Aww!
Chillin' with Buddha: Legend has it that even Buddha hung out under mango trees for a cool escape from the sun. That's one wise choice of shade!
Nutty Relatives: Mangos are related to cashews and pistachios. They're all part of the same nutty family.
Sweet Balance: A ripe mango knows how to balance flavors – it's 14% sugar and 0.5% acid by weight, making a perfect 28-sugar-acid ratio.
Around the Globe: Thanks to Spanish explorers, mangos made their way to South America and Mexico in the 1600s. They even took a shot at the U.S. in Florida back in 1833.
Name Origins: The mango's fancy name is Mangifera indica, shouting out its Indian roots loud and proud.
Traditional Magic: People have used mango bark, leaves, skin, flesh, and even the pit in remedies for ages. Talk about a multi-purpose fruit!
Source: https://www.mango.org/mango-facts/
Print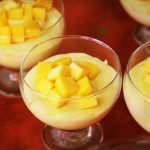 Mango Mousse
---
800 g mango puree
200 ml whipped cream
1 tbsp gelatin powder
2 egg whites
2 tsp sugar
juice of one lime
---
Instructions
Begin by pouring the mango puree into a bowl, giving it a gentle whisk. If mango puree isn't readily available, you can easily create your own by mashing canned mangoes into a smooth consistency.
In a separate bowl, whip the cream until it reaches a delightful fluffiness.
Dissolve the gelatin powder in a small amount of hot water, ensuring it's fully mixed.
In another bowl, use an electric mixer to whip the egg whites until they form stiff peaks.
Combine the dissolved gelatin and sugar with the whipped egg whites. Introduce the zesty lime juice to the mix.
With a gentle hand, fold the whipped cream and mango puree into the egg white mixture. The goal here is to blend the ingredients thoroughly while retaining the mousse's airy texture.
Transfer the resulting mixture into a generously sized serving bowl or individual dessert cups, allowing it to set in the refrigerator for a minimum of 3 hour