A flavourful Indian flatbread
Paneer paratha stands as a beloved stuffed flatbread hailing from North India. Crafted from a robust whole wheat flour dough, this delicacy encases a flavorful interior of grated paneer (Indian cottage cheese) infused with aromatic spices. Hailing from Punjab, this variation of stuffed paratha reigns as a breakfast staple, cherished for its widespread popularity.
While it's commonly paired with curries, I prefer using this bread as a wrap. I enjoy filling it with vegetable patties or chicken, along with a side of crisp salad and a tasty sauce.

What is paneer?
Paneer, also referred to as 'Indian cottage cheese,' is a gentle and pale cheese extensively utilized in India, Pakistan, Afghanistan, Nepal, and Bangladesh. Often sliced into cubes and fried, this cheese boasts a tender, non-aged, non-melting consistency akin to cottage cheese. A common presence in pakoras, kebabs, and curries, paneer offers a firm texture that easily absorbs the intricate flavors and luxurious sauces inherent to Indian cuisine.
With its popularity extending across the Indian subcontinent, paneer has attained global recognition and appreciation due to the rising fame of Indian gastronomy. Its subtle taste makes it an ideal canvas for assimilating the intricate sauces and elaborate seasonings characteristic of Indian dishes. Comparable to tofu in Southeast Asian fare, paneer occupies a comparable role, further contributing to its culinary versatility.
Print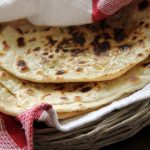 Paneer Paratha
---
For the Dough:
4 dl all-purpose flour
About 1 dl water
For the Paneer Filling:
200 g paneer
1 green chili
1 tsp chili powder
1 tsp lemon juice
1/2 tsp garam masala
Salt
Ghee (clarified butter) or oil
---
Instructions
Prepare the Dough: Mix the all-purpose flour with enough water to form a smooth dough. Set aside.
Create the Paneer Filling: Grate or crumble the paneer cheese using your hands. Mix in all the spices, finely chopped green chili, lemon juice, and salt. Set aside.
Divide and Roll: Divide the dough into approximately 10-12 portions and roll them into balls.
Roll Out the Dough: Roll each dough ball into thin, round flatbreads.
Assemble the Parathas: Place the paneer filling on one of the flatbreads and then cover it with another flatbread, sandwiching the filling in between. Press the edges to seal, ensuring the filling doesn't spill out. Roll out the sandwiched bread into a thin flatbread.
Cooking Time: Heat a frying pan over medium heat. Cook the parathas for a couple of minutes on each side until they turn golden brown. Brush them with a little ghee or oil while cooking.