Hazelnut Rice Patties – a fantastic vegan alternative to meat patties. If you're looking to switch things up, these patties are your canvas for creativity, ready to be spiced to your liking.
For an exotic twist, go for basmati or jasmine rice. To infuse an Asian flair, add jeera, garam masala, and chili.
Enjoy them with a creamy mushroom sauce or wrap them up with tasty sauces and extras – it's your call.
A vegan delight that's all about your preferences.
Print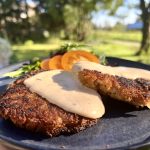 Hazelnut and Rice Patties
---
2 cups cooked rice
2 carrots
3 large potatoes
2 large yellow onions
3 cloves of garlic
1 cup ground hazelnuts
3/4 cup wheat flour or chick flour
1,5 teaspoon paprika
0,5 teaspoon cayenne pepper
1/2 cup breadcrumbs
1 tbsp paprika powder
1/2 tsp black pepper
Salt to taste
Oil for frying
---
Instructions
Cook the rice according to the instructions on the packaging.
Peel and grate the potatoes and carrots.
Chop the onions and sauté them in a little oil until they are soft and golden.
In a large bowl, combine the cooked rice, grated potatoes, carrots, sautéed onions, hazelnut flour, and wheat flour.
Add paprika powder, black pepper, and cayenne pepper. Season with salt to taste and mix well.
Shape the mixture into patties and coat them with breadcrumbs.
Heat oil in a frying pan over medium-high heat.
Fry the patties in the oil for a few minutes on each side until they are golden brown and cooked through.
Serve the delicious hazelnut patties with a creamy sauce for extra flavor.