One of the countries that lies close to my heart is Ukraine. I have a very close friend in Lviv that I always visit when I can. So far I think I have 9 Ukrainian stamps in my passport.
When I visit Ukraine then I love going to restaurants that serve local food. A lot of the disches reminds me of the ones I am grown up with and some ar very different.
Plov is actually something I never had in Ukraine, or if I remember correctly, but I had heard about it so many times that I had to look for a recipe of it. I found a simple recipe on a blog called Natashas kitchen, She has many great recipes on that website.
Plov reminds me a little of an Indian Biryani, but with fewer spices. I guess there are hundreds of versions of plov out there, but I took this one and it was so so soooo good. Of course, I can't say if plov is tradition Ukrainian, but at least itäs popular there 😀
Print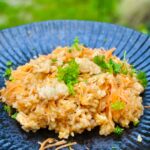 Chicken Plov – Ukrainian style
---
2 tablespoon

oil

400

gram

chicken, cut in small peaces

4

deciliter

rice, rinsed

1

onion, finely chopped

2

carrots, grated

2 tablespoon

butter

1

deciliter

ketchup

6

deciliter

chicken broth

2 teaspoon

salt

0

,5 teaspoon ground black pepper

0

,5 teaspoon cayenne pepper
---
Instructions
Heat 2 tablesppon oil in a large skillet over high heat. Add chicken pieces, than saute until golden and cooked through.
Add 1 diced onion and saute for a couple of minutes.
Add grated carrots and saute for about 2 minutes.
Add the butter and ketchup and stir everything together until the butter is melted.
Add 2 cups of rice to the skillet. Sprinkle with salt, black pepper, Cayenne pepper and mix everything together.
Add the chicken broth and cook until rice is soft, about 20 minutes.
Category:

Huvudrätt

Cuisine:

Ukraine
Keywords: chicken, pilof, plov, rice