I have always loved corn. I like it with just butter and salt. I remember when I was visiting Munnar in India and we walked on a road there in the Himalayas, and these old women were selling roasted corn next to the road. They had a small fire where they roasted the corn, and they put a little salt, chili, and lime on it. Oh, that was so good. The smoky flavor from the fire was delightful with the chili and the sweetness from the corn.
These corn pancakes don't really have anything to do with Indian food, but in these, you can also taste the sweetness from the corn and the heat from the chili. The green peas also add a bit of sweetness to them. You can eat these however you like. You can use sweet jam or a savory dressing, or just a little butter, sour cream, and lime.
Print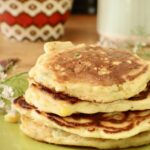 Corn pancakes
---
3 deciliters wheat flour
2 tablespoons cornstarch
1 tablespoon sugar
2 teaspoons baking powder
1 teaspoon salt
1.5 teaspoons cayenne pepper
0.5 teaspoon black pepper
4 deciliters frozen corn kernels
2 deciliters frozen peas
1 handful fresh parsley (finely chopped)
1 red chili (chopped)
2 deciliters milk
2 eggs
vegetable oil for frying
---
Instructions
Mix all the dry ingredients and spices together.
Fold in the corn, peas, parsley, and chili.
In a separate bowl, mix together the milk and eggs.
Pour the milk and egg mixture into the flour mixture and stir so everything is blended together, and you have a smooth batter.
Fry the pancakes in a little oil on both sides until they are brown.