Cumin enriches the flavor of these vegan tacos. Broccoli and cauliflower with a squeeze of lime juice make them perfect. It is a delicious alternative to a normal meat taco.
They don't have a lot of ingredients and you can choose what you serve with them. I decided to serve mine with avocado, jalapeno, lime, and Crème Fraiche. Pickled onions would also give a nice kick to them.
I like food that is simple. That is easy to make and doesn't need a lot of ingredients to make it taste good. As I have mentioned before, I think it is always difficult to write how much of each spice you need to put. I want these measurements I have here to be a small guide, but taste the food while cooking and add more or remove some if you feel like it.
Cumin
Cumin (jeera) is used in the kitchens of Mexico, Spain, India, North Africa, and the Middle East. The rich and hearty, earthy and warm, with an edge of citrus, cumin adds instant depth to any dish. Cumin is often mistakenly mixed up with caraway seeds. They look almost the same, but the flavor is totally different.
I hope you enjoy these tacos.
Print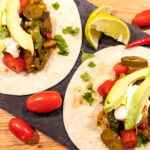 Vegan tacos
---
1 cauliflower
1 onion

1 broccoli

2 tablespoon oil

4 garlic cloves

1 teaspoon smoked paprika

2 teaspoon ground cumin (jeera)

5 deciliter water

1/3 teaspoon cayenne pepper

Soft tortilla

Lime juice
Condiments

Avocado

Crème fraîche

Jalapeno

Fresh coriander
---
Instructions
Cut the cauliflower and broccoli into small pieces.
Cut the onion into small pieces. I like to slice the onion and make bigger pieces, but if you prefer it finely chopped, then you can do that.
Chop the garlic.
Heat up oil in a frying pan.
Fry the onion and garlic until they become translucent.
Add the cauliflower and broccoli and fry for 3 minutes.
Add the paprika, cumin, and cayenne, and fry for a couple of minutes. Be careful with the cayenne because it's hot. Adjust the amount based on your preference for spiciness.
Pour in the water and let it simmer for about 10 minutes. The water should evaporate, leaving the vegetables soft on the outside and slightly crispy on the inside.
Season with salt and pepper according to taste. Heat the tortilla in the oven or microwave (for about 15 seconds).
Fill the tortilla with the vegetables and squeeze lime juice over them. Add your desired condiments.